What is a 3D foot scanner?
An accurate 3D foot scanner is required to capture the shape and external appearance of a foot.
PT-3D Scan quickly and easily gathers point-by-point details from a foot and creates a 3D foot image. This image actually represents a composite plaster mold of the foot.
We need information about the dimensions and angles of an object in three-dimensional space in order to properly visualize and understand its dimensions. In a 3D foot scanner, a 3D image is produced, similar to a cast, with all the details of the foot. This three-dimensional cast helps specialists in designing shoes, medical insoles and foot rehabilitation equipment with great precision and elegance.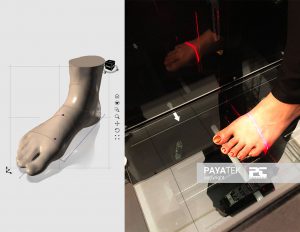 PayaTek 3D Foot Scanner | PT-3D Scan
PayaTek 3D Foot Scanner produces a very accurate 3D image from the sole of the foot to the ankle without emitting harmful rays, using low-power laser. The technology used in this device is LASER triangulation. the physical structure of the foot, including the arch rate, location of the arches, position of the toes, and spatial dimensions of the foot are measured. The characteristics of the physical structure of the foot should be examined in three modes: no weight application, single foot full weight application, and sitting position. From these three positions, we can clearly see how the foot changes when weight is applied in walking mode. Many foot deformities can be extracted from examining this information.
3D Foot Scanner

output format
PT-3D scan output format is STL and PLY standard digital data. The PLY standard is offered in this device with two versions: high quality and low quality. Providing standard output models is particularly important for compatibility with a variety of 3D design software. This data can be used in all CAD/CAM software and processes and is also compatible with a variety of CNC machines.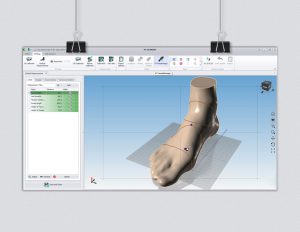 3D Foot Scanner output information
PayaTek 3D foot scanner is capable of accurately studying the anthropometry of the human foot. This information is very useful for the precise design of shoes with general or specific applications. Generally, any data related to the dimensions of the human foot can be measured and reported in the output of this device. For example, the following can be mentioned, but any type of measurement is supported:

First Toe Length – Second Toe Length – Third Toe Length – Fourth Toe Length – Fifth Toe Length – Arch Length – Heel to medial malleolus – Heel to lateral malleolus – Heel Width – Foot Width – Bimalleolar Width – Mid-foot Width – Medial Malleolus Height – Lateral Malleolus Height – Height at 50% foot length – Ball Girth – Instep Girth – Long Heel Girth – Short Heel Girth – Ankle Girth – Waist Girth – Optional linear sizes include length and width in different areas – Foot environment in desired parts –  Diagnosis of arch type of foot.
Advantages of PT-3D SCAN
PayaTek 3D foot scanner captures high-resolution, high-speed 3D foot scans using four laser beams and six powerful cameras. 3ِD foot data is generated in less than 10 seconds and in various directions. In this method, the scanning process is done in the shortest time and with the highest accuracy up to a height of 14 cm.
3D foot scanner enables you to capture data directly from the patient's foot in a weight-bearing, semi-weight-bearing, or non-weight-bearing position. This allows you to check the changes in the size of the foot and the height of the arch of the foot due to the application of weight in the most accurate manner.
The 3D foot scanner is compatible with all CAD/CAM solutions and is suitable for scanning lasts, foot, hand foam boxes, and insoles. It is possible to directly transfer the 3D model to any CAD software.
The accuracy of PT-3D SCAN for scanning solid objects is 0.1 mm. However, you should always be careful that the foot has a blood pulse. This pulse can cause an error of up to 0.4 mm in the worst case.